By Lylian Fotabong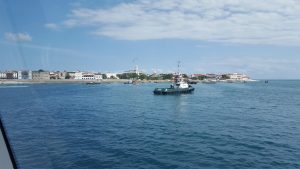 Zanzibar as seen from the Indian Ocean
Photo by: @Lylian_Fotabong
On board the Kilimanjaro 4 from Dar es Salaam, we sailed for peace, in the stillness of the Indian Ocean to the Island of Unguja (Zanzibar) that rested in plain and imposing view.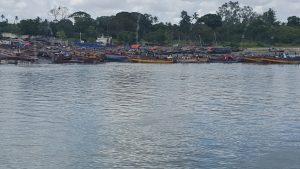 Zanzibar also thrives on fishing
Photo by @Lylian_Fotabong
Up close and what you see is a stretch of endless beauty. The Seaport was spectacular at distant and frantic with activity on arrival: buskers hoping for some Shillings; taxi drivers waiting for pick up and luggage carriers scrounging and screaming for passengers. These are just some of the examples you see as you arrive and leave the Zanzibar Seaport.
Every other person went about their business – without fear in their eyes despite the volatility surrounding the region. Later in the conference, we will learn from the Intergovernmental Authority on Development (IGAD) that, "acts of terrorism, violent extremism, and civil war in South Sudan" and a series of other violent activities in East Africa provide a case for robust regional collaboration.
If anyone feared these undertakings, including myself, it was in our thoughts, not in our actions, as we headed towards a two-day conference organised by the Global Peace Foundation (GPF). The hope would be to discuss some lasting solutions to some of these instabilities engulfing East Africa.
In this article, I profile some aspects of the Global Peace Leadership Conference (GPLC) 2015, which took place from the 21st to 24th July in Zanzibar. 
Zanzibar Seaport to Melia Hotel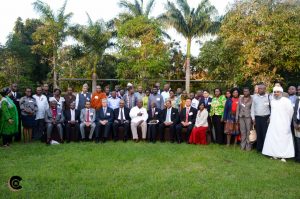 Presidents, faith & youth leaders at Melia Hotel, Zanzibar
Photo by @Lylian_Fotabong
As I have pointed out above, throughout this journey, the thoughts of terror attacks were not spoken, but one could almost sense the fear from within most people. But what is worth fighting for, they say, is worth going after. And once you make a choice, they say, you tend to protect it. And so we travelled the over 50 minutes' journey from Zanzibar Seaport to Melia Hotel, to begin preparing for what will become the first-ever- GPLC in a country that is still to have a GPF organisation.
Rooms were prepped and they looked exquisite. This was my first visit to East Africa and Zanzibar, and, I may run into the temptation that this prepping was unprecedented. No it wasn't because this is the way it appeared to always have been at the Melia – the way it was and the way it would always be.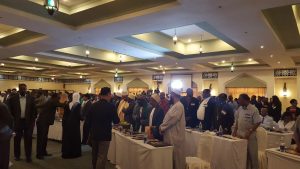 Participants @ Melia Beach Resort, Zanzibar
Photo by @Lylian_Fotabong
But something was about to shift – discussions about peace, security, sustainable development and a call for moral and innovative leadership would be the talking points for the next few days of our stay.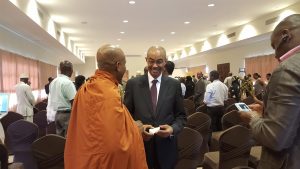 Ex-Pres Karume & Faith Leaders @ Melia Hotel
Photo by @Lylian_Fotabong
What is more, about 150 African leaders, including former presidents, faith leaders, entrepreneurs, as well as up to 500 youths would be expected to brainstorm on the aforementioned. It would be a week bursting with activity and information, some of it likely to stir hope for peace and others likely to cause resentment.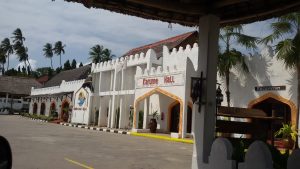 Karume Hall, Zanzibar Beach resort
Photo by @Lylian_Fotabong
Wednesday 22, July 2015
: The prominent Karume Hall at Zanzibar Beach Resort was open for business. On this occasion, it was a special business.
The venue swamped with security control systems – the kind of 'big toys' and screening checks you mainly endure at airports. Police officers stood alert and watchful at every nook and cranny, as they worked under strict instructions from the Zanzibar Government.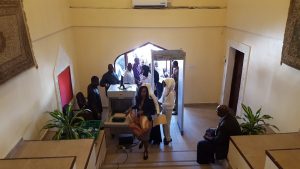 Security Scans @ Karume Hall, Zanzibar Beach Resort
Photo by @Lylian_Fotabong
For most, this was the first visible indication of the fear of a possible fanatical attack, but for others, it was a signpost for reassurance – after all many dignitaries, including ex-presidents and faith leaders were attending this opening plenary that would dissect issues regarding religious extremism. This had the potential to stir up resentment.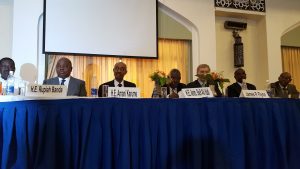 Leaders @ GPLC, Zanzibar
Photo by @Lylian_Fotabong
Former president of Zanzibar, H.E Amani A. Karume was the first to address the over 600 participants. He commented on how fragmented the East African society had become. (Not even the ringing of his telephone in his pocket had the power to deter him from the important remarks he was about to make.)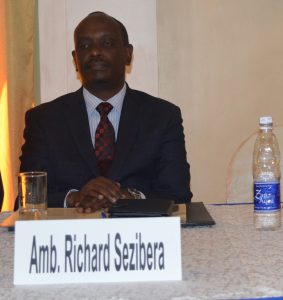 Sec. Gen. EAC, Dr R. Sezibera
Photo by @Lylian_Fotabong
Mr Karume said
the rise of volatilities in countries such as South Sudan, Somalia, Kenya and Congo, not only impacts the immediate people, but also threaten other countries who "accommodate refugees, while also causing psychological trauma for generations".
Very poignant also was the historical view of the Secretary General of the East African Community, Ambassador Dr. Richard Sezibera. He said "Zanzibar provided items for trade when we decided to trade each other" before adding that "of course our integration is deepening".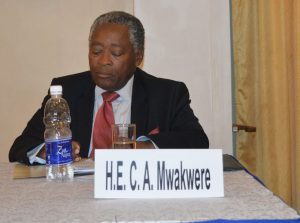 Kenyan Amb to Tanzania, Hon C.A Mwakwere
Photo by @Lylian_Fotabong
Also tracing history – this time American – and at the same time painting the seriousness of terrorist inferno in East Africa, Ambassador of Kenya to Tanzania, Hon. Chirau Ali Mwakwere mirrored the Westgate attacks in Nairobi. He referred to it as "our own 'Watergate'" (Referencing the 1972 scandal that consumed the White House under President Richard Nixon). 
Then speaking firmly, the Kenyan High Commissioner said: "Kenya is fully behind the GPLC initiative because we want a peaceful East Africa where young people are fulfilling their dream, and an East Africa that can be an example to the world."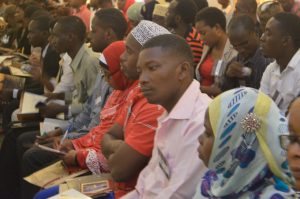 Section of youths @ GPLC 2015
Photo by @Lylian_Fotabong
He turned sharply and suddenly towards the section where the majority of youths sat, and almost as a warning, said to them: "You've got a heavy challenge in the present; don't destroy your future."
And if you thought that was strong, I'm sure the audience would disagree. When next he spoke, one could sense the scepticism in his voice about the prospect of oneness. Mr Mwakwere said: "We cannot all be one, it has never happened before, maybe it will happen someday."
Whether you viewed that as hard-pressed fact or colourful language, the truth always has to be told, which is why Kenya's former Premier, Raila Mollo Odinga, expressed in no uncertain terms his view of Islam and anarchy in the world.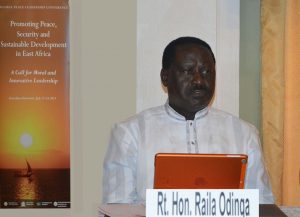 Ex-Kenyan PM, R. M. Odinga
Photo by @Lylian_Fotabong
Mr Odinga quoted from the acclaimed film maker and journalist – Callum Macrae, and said: "'Without truth, there can be no justice.' The truth I am talking about is that Islam is a very peaceful religion. It has nothing to do with terrorism and we are not prepared to be divided along religious lines."
These were robust words coming from a man regarded as Kenya's father of democracy. How then, can one argue that there can be justice without truth when majority of stakeholders and common people have a rigid interpretation of Islam and at worst, know not the truth about this Abrahamic religion?
    But, are we not already divided along 'religious lines'? My answer is, yes! We already are.     
Truths or the lack of it, about Islam
It is incumbent that we look at some warm truths about Islam which have been shared by world leaders in the face of religious terrorism. Speaking on the inter-religious approach to peace, Makerere University Business School Imam, Sheikh Muhammad Ali Waiswa, quoted former American president, George W. Bush Jnr., following the September 11 attacks and the anti-Islam sentiments that pursued thereof.
President Bush addressed worshippers at a Washington Mosque on September 17, 2001, and said: "… These acts of violence against innocents violate the fundamental tenets of the Islamic faith…. The act of terror is not the true faith of Islam. That is not what Islam is all about. Islam is peace…."
Mr Odinga's view bears a striking resemblance to Mr Bush's address, yet many people would believe that September 11, 2001 and this speech is too long ago!
When you take on President Karume's views, one would realise this is not the case. He said: "… current conflicts in the world exemplify the seriousness of the situation.  The end results of the scourge of violence facing Africa and the world at large are being witnessed in the armed violence in South Sudan, Somalia, mass up-rising in Burundi, Al-shabaab attacks in Kenya, and the vicious radicalism in Libya, Iraq, Afghanistan, Syria and Yemen."
So, why is there an explosion of these attacks on world citizens?
Religion – the lethal truths
The Imam, Sheikh Muhammad Ali Waiswa, maintained that at the dawn of the 21st century, the world concedes that religion is at the core of some of the world's deadliest attacks.
*This, in itself is very important because as widely understood; any threat to one's beliefs is a threat to one's very being.
Does this mean the need to protect one's religion has given rise to some of the world's violent extremism?
The Imam said this is the case.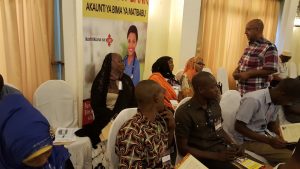 Tanzanian Reporters
Photo by @Lylian_Fotabong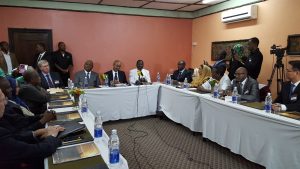 Media Conference @ GPLC 2015
Photo by @Lylian_Fotabong
He outlined some of the causes of religious based conflicts, from Cosmic or Holy wars, self-righteousness, religious ridiculing and stereotyping, religious extremism, intolerance & fundamentalism, globalisation, abuse of freedom of speech, to sensationalism in media reporting.
This got me thinking about an event of not too long ago, on January 7, 2015:
Two brothers, Saïd and Ch
ér
if Kouachi, armed themselves with assault rifles and stormed the offices of French satirical newspaper Charlie Hebdo in France. They killed 12 people and injured many others. The two brothers identified themselves as belonging to the Islamist terrorist group Al Qaeda's branch in Yemen.
Two days after the massacres, the Associated Press reported that, the head of Lebanese Hezbollah group, Sheikh Hassan Nasrallah, delivered a video address to followers in southern Beirut. Although he did not make any direct reference to the Charlie Hebdo attack, he said
radicals have done more to disparage the Muslim prophet Muhammad than journalists who published satirical cartoons mocking Islam
. Similarly, after the September 11 attacks, he said extremists who murder and behead people have done more harm to Islam than "anyone else in history."
To buttress this view is also the adage by Archbishop Desmond Tutu. He once said: "Religion is like a knife: you can either use it to cut bread, or stick in someone's back."
Personally, I have no wish to use the knife, apart from using it as a kitchen utensil, but what disturbs me is how man has successfully transformed a collection of beliefs (religion) to a weapon that creates unimaginable and untold suffering to human existence!
So, is there a way forward?
Sheikh Waiswa said: "Amidst all of these obstacles, we must not give up. We must look for a way forward. … Successful transformation of religion based conflicts will require a multi-dimensional approach that engages with and aims at transforming the very interests, relationships, discourses and structures that underpin and fuel outbreaks of conflicts and violence."
The Imam outlined 34 recommendations to transform religion based conflicts, from "dialogue"; "faith", "religions education"; "end to violence in the name of God"; to, the basic but all important 'respectus' (Latin for respect).
Now, these recommendations are all good and fine, but what about development?
There is also a nexus between peace and development because "when conflicts flare up, no business can run smoothly," said former president of Zambia, H.E. Rupiah Bwezani Banda.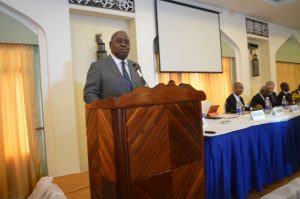 Ex-President H.E. R.B. Banda
Photo by @Lylian_Fotabong
            Mr Banda said: "Therefore, governments in Africa have to prioritise employment and entrepreneurship programmes for our young people… but it is also important for our young people to take a realistic approach to governments' limitations to these provisions."
Youths @ GPLC 2015
Photo by @ Lylian_Fotabong
Young people must have a sense of service, self-discipline, sacrifice, resilience and sheer hard work because these were the values that helped to liberate our continent, the Zambian former president said, before adding that: "Economic and socio-emancipation is going to demand much more from our youths." 
Challenges facing Africa and its Youths
But today's Zanzibar or East Africa is not shaped by the past or stereotypes or narratives.  It is shaped by the electrifying need by youths to change and refocus.
Talking about youths, Mr Karume said 40 million of 200 million African youths are unemployed; 53 million have unstable employment and the education systems fails to prepare its youth for production engagement.
As a result, "youths have resorted to drugs, unsafe sex leading to HIV/AIDS, gang formation and exposure to radical ideas that propagate and wage wars on society in the cover of religion," he added.
I am not going to justify this behaviour, but a well-known African adage suggests that
there is a quenching need for a human mind – youths – to be seen as resisting the temptation of idleness, even when it involves doing the unpleasant: "if you don't stand for something, you will fall for something."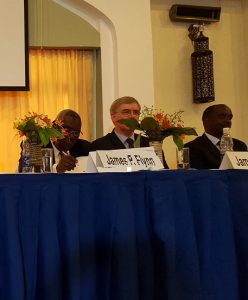 GPF Int Pres. James p. Flynn @ GPLC 2015
Photo by Lylian_Fotabong
This view brings me to what the International President of GPF, James P. Flynn, said. He said, Africa can make dramatic advances and meet the serious challenges it now faces.
            "You have tremendous spiritual and moral resources already at hand.  The traditional culture of East Africa remains strong, and the emphasis on the extended family and community, helps to nurture the values of cooperation and mutual respect. Spirituality is deeply rooted here and is a natural part of daily life.
"Such spiritual resources are key to forging a shared identity that transcends tribal, ethnic, and religious differences. The shared values contained within them are the foundation for substantiating the motto of the East African Community – One People, One Destiny.  And the commitment to make that vision a living reality – One People, One Destiny (
Tafsiri ukurasa huu) – provides purpose and motivation of the highest order."
Despite this outpour of bleakness, the optimism in one former president suggests there are better days ahead. Ex- Zambian president, Rupiah Banda said at the official plenary: "I am impressed by the seriousness, maturity and concern that the youths displayed for the betterment of their lives.
"There is hope yet for the youth of Africa; there is hope yet for mother Africa."
But, is this all it will take?
It seems therefore that the future of peace in East Africa and the world at large lies mainly in the hands of today's youths.  This was one of the main reasons for the Global Peace Leadership Conference in Zanzibar.
Also, it was one of the main strategies formed at the Kigali Declaration, which held in Bujumbura in November 2013 to promote peace and security in the East African Community (EAC).
The conference considered that promoting youth education in particular, as well as civic education, and encouraging a focused attention on youth unemployment would contribute to "promote just peace and security".
Similarly, IGAD said youth leadership, entrepreneurship and service can be leveraged to promote peace, security and development in East Africa.
Perhaps, an overall view would also be to go back to African values and the theme of GPF, as representative of former Nigerian President, Olusegun Obasanjo, aptly suggested.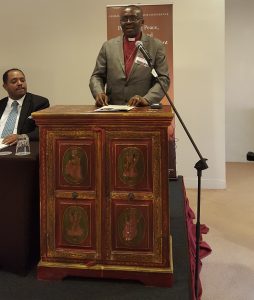 Executive Director for interfaith Action
Bishop Sunday
Photo by @Lylian_Fotaboong 
Executive Director for Nigeria Interfaith Action, Bishop Onuoha Sunday said on behalf of Nigeria's Obasanjo: "Youths must present and preserve African values, and we all must understand that "insecurity in one country is insecurity in the world. And that neglecting one small risk will lead to much insecurity in the world."
When all of these discourses are put together, it seems to me that, most, if not all of these narratives carry one dominant solution for peace – going back in order to be able to move forward.
This means, we must go back to seeing ourselves as 'One Family under God' for there to be lasting peace. For, uniting East Africa will help to keep the world safer.
In my opinion, this strategy will ONLY triumph with a real model that works to empower today's youths.  
And that's the well-known secret, uncovered at the Global Peace Leadership Conference 2015, in Zanzibar, Tanzania.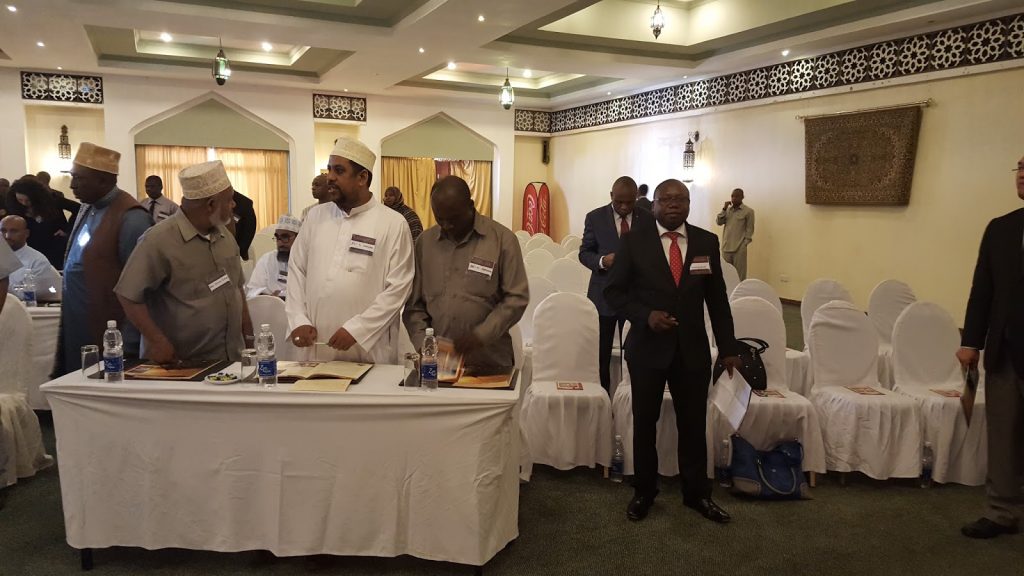 From right: GPF Country Director of Ireland, Arnold Kashembe, faith leaders and participants
Opening plenary of GPLC 2015, Zanzibar @ the Zanzibar Beach Resort
Photo by Lylian Fotabong
Video links of participants' reaction to GPLC 2015, Zanzibar:
https://vimeo.com/136750520
https://vimeo.com/136750519