By Lylian Fotabong
The first-ever inter-cultural event to celebrate the diversity of cultures, communities and ethnicities in Newcastlewest took place on Wednesday.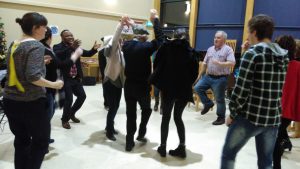 Participants dancing to "Rumba" music by Congolese-Irish band, Elykia,
Desmond Complex, NCW, Dec 16, 2015.
Photo by Lylian Fotabong
The event was organised by West Limerick Resources (WLR), a community development organisation that works to enhance personal and community identity, values, places, structure and services.
Community Project Officer at WLR, Laura Kelly said: "Seeing all the different cultures come together for one night was fantastic."
"The event represents the West Limerick immigrant community, aimed at bringing people together from different ethnicities and cultures in a fun-filled atmosphere," Ms Kelly said.
She added that, West Limerick Resources and Desmond Ability Resource Complex were very proud to host the event.
Another Community Project Officer at the community organisation, Suzanne Rowley hailed the event as "very successful".
Ms Rowley said: "The event was not just about the international communities; it was also about local communities – native Irish people who were open and willing to interact in a social atmosphere, dancing and laughing together.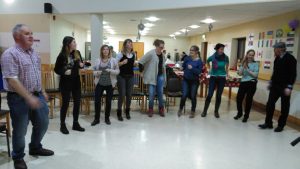 International audience performing dance routines, Desmond Complex,
Dec 16, 2015. Photo by Lylian Fotabong 
"I mean, you could not have asked for more from the night. It was fantastic," the Community Project Officer said.
The night witnessed performances by two uniquely different traditional groups that represent two distinct cultures – Irish and African, much to the delight and applause of the more-than-fifty audience members.
The Athea Drama Group performed one of the longest running Irish hit comedies, "The Real McCoy".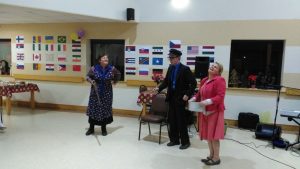 Athea Drama Club in The Real McCoy, Desmond Complex, December 16,
2015. 
Photo by Lylian Fotabong
The play is set in 1964 rural Ireland and focuses on the life of 68 year-old Madge Mulloy, whose husband, Tom, disappeared without a trace, five months after marrying her. Madge has spent more than 40 years surviving on a small farm with her only daughter, Maura.
The other entertainment for the night saw Elykia band on stage. They kept the audiences on their feet throughout the evening as they performed songs and dance in typical African and Latin American routines.
The band presented music predominantly in French and Lingala, a language spoken in the Northwestern part of the Democratic Republic of Congo (DRC), Republic of Congo, some parts of Angola and Central African Republic.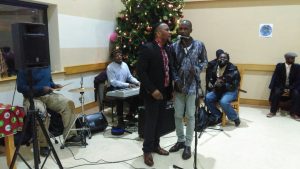 Elykia band performing Rumba hits from the DRC
Desmond Complex, Dec 16, 2015.
Photo by Lylian Fotabong
The band were formed in Limerick in the year 2000 as a Gospel Choir Group, and comprises members from the DRC, Netherlands, Ireland, South Africa and others.
The lead singer, pianist and manager of Elykia, Eric Kalombo compared his experience in Newcastlewest to "having the best Christmas day".
Mr Kalombo said: "Although we are used to Irish audiences, it was very nice to see people getting along with the song without knowing the language itself. So, we feel very blessed by that."
The pianist added that his experience in Newcastlewest was "very nice"; "it is a very lovely town and the people are lovely. I don't have enough words to say how blessed and happy we are. We will be very happy to come back again to Newcastlewest".
Throughout the event, participants interacted with one another, sang together and performed dance routines together, a thing Community Project Officer for WLR, Suzanne Rowley said she was proud to witness.
"Everything just "gelled" together; sometimes, arts is the best way to bring people together because it is a very good way to communicate with each other and interact," Ms Rowley said.
Ms Rowley said the timing for this event was particularly poignant given the current migrant crisis, because it is important to bring the indigenous people and the immigrants together so that no one is sitting by the side lines.
"The most important thing is about making people realise we are all one community; it doesn't matter where you originated from. When you live in this area, we are all one community, we all need to live together, work together and play together. That's what life is all about and that's what tonight was about", Ms Rowley said.
This sentiment was shared by most participants. One participant, Eugene Nolan said: "I don't remember ever dancing this much. It was like my childhood Christmas. I liked the event."
West Limerick Resources hope to make the event an annual celebration, as a sign to mark the end of one year's work with the communities.
The event was supported by local businesses and communities, including the Athea Drama Club, Desmond Complex, Marguerites Bakery, Star Indian Restaurant, Mini Europa, Desmond Court and also individuals who brought home food dishes.