By Lylian Fotabong
United Nations (UN) Secretary-General, Ban Ki Moon, has praised Ireland for its role in "global peace citizenship".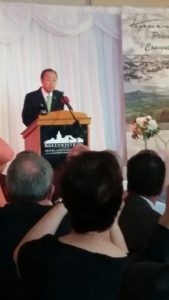 UN Sec. Gen, Ban Ki Moon 
Tipperary Peace Award, May 2015
Photo by Arnold Kashembe
The UN Chief was speaking on Sunday, May 24, 2015, at the Ballykisteen Hotel in Co Tipperary, where he received the Tipperary International Peace Award – Ireland's outstanding award for humanitarian work
The world's second most powerful leader said: "In receiving this award, I want to sound the cord to protect the space of civil society" and adding that: "Ireland is a valued member of civil society".
The eighth Secretary-General of the UN said he was aware of the criticism of the intergovernmental body, but that, "We have been able to maintain peace and human rights around the world".
Irish Foreign Affairs Minister, Charlie Flanagan honoured the world's famous South Korean and said "his smile is known all over the world".
 "Ban Ki Moon has steered the United Nations with firm leadership and good grace and remained committed to the core principles that the UN represents: peace, development and human rights", Mr Flanagan said.
Honorary Secretary of the Tipperary International Peace Award, Martin Quinn, said: "The award represents testament to the leadership of the UN's chief in building a stronger UN for a better world."
Previous recipients of the Tipperary International Peace Award include: Pakistani activist, Malala Yousafzai in 2012; former Irish President, Professor Mary McAleese in 2011; former American President Bill Clinton in 2000; former South African President (RIP) Nelson Mandela in 1989; former Soviet President, Mikhail Gorbahev in 1988 and Irish Singer and Live Aid Founder, Sir Bob Geldof in 1985.
This year's award took place two days after the Same-sex Marriage Referendum in Ireland, in which 62 percent of voters said yes to marriage equality among all peoples.
UN Chief, Ban Ki Moon called the results "truly historic", and added that Ireland has once again shown its commitment as a dynamic member of the Human Rights Council.
"Ireland has become the first country in the world to approve marriage equality in a nationwide referendum.
"The result sends an important message to the world; all the people are entitled to enjoy their human rights and human dignity, no matter who they are or whom they love", the UN Chief added. 
The first Tipperary International Peace Award was presented in 1984 to the late Irish Politician and Chief of Staff of the Irish Republican Army, Seán McBride.
The event, awarded by the Tipperary Peace Convention, takes place every year as a means to promote peace and peaceful co-operation on a national and international stage.
The event continues to garner support from individuals and organisations around the world. Of significance, the Global Peace Foundation, through their Irish based branch, Global Peace Foundation-Ireland gave monetary support to the Convention.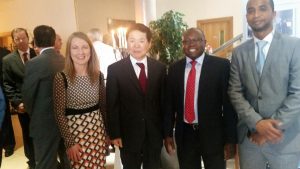 South Korean Ambassador to Ireland & GPF Ireland team at the
UN Chief Tipperary International Peace Award, May 2015
Photo by GPF-Ireland
Country Director of GPF, Ireland, Arnold Kashembe said: "This is a great day for international peace and for Ireland and we are very proud to be part of the peace building and awarding process."
Global Peace Foundation
is
an international non-sectarian, non-partisan, non-profit making organisation that promotes an innovative, values-based approach to peacebuilding, guided by the vision of "One Family under God".