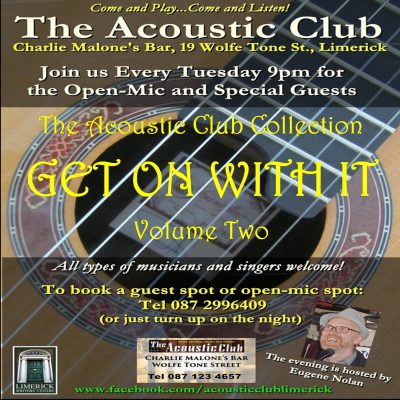 Hi You All… It's been a while since I updated my slot (The Acoustic Club) on our website…
I have been very busy day in and day out working on putting together the next few CD's of Artists who write the own songs and play them in front of an audience at Charlie Malone's Bar in Limerick City where I MC the night away every Tuesday night. You should pop in sometime to see what I mean…
Since the last CD "The Acoustic Club Collection – Who Are These People – Volume One" was launched last year October 2017 our first CD of 20 great Artists and 20 Great Original Songs.. Which has sold out by the way (Well Done All).. I have already put together another CD called "The Acoustic Club Collection – Get On With It – Volume Two".. Which was launched last March 2018 and has sold extremely well with only a few copy's left..
With the success of both CD's there will be two more to follow which will be launched in July 2018 and the final one in October 2018 there called…….
The Acoustic Club Collection – As We Speak – Volume Three" which also has a special CD that will be tributed to one of our own Artists who sadly passed away last March.. (Paul Swive O'Donoghue) RIP…..The CD which will be called "A Special Tribute" which will also have 20 songs submitted by Artists who knew or had known Paul…
The last CD I will finish up with as it take's a lot of work and energy to complete for someone who has never done anything like this before or even have the experience to do… A great learning curve for me… The Oul Man That I Am.. It will be called "The Acoustic Club Collection – This Is It – Volume Four" also having 20 Great Artists and 20 Great Original Songs on it…
Its been a real joy doing them and meeting wonderful talented artists who never get the chance to be heard or even having one of their songs on a CD like the ones above…
So until the next time I'm around.. Enjoy our website and spread the WORD..
You can pick up a copy of any of the CD's if you like to have one for a small fee at The Acoustic Club Limerick at Charlie Malone's Bar, Wolfe Tone Street, Limerick City, Ireland.. Just in case there is another one like it in the world.. Every Tuesday night from 9pm… Might see you there then..
Thanks for your attention…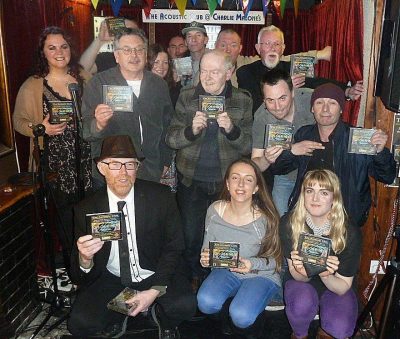 Eugene G Nolan